90Second Fitness Solution

90Second Fitness Solution -  Fitness & Weight Loss by Pete Cerqua . Peter Cerqua offers program for fitness that takes under 2 minutes. Yes!.  The 90 Second Fitness Solution program takes only 90 seconds....90 Seconds! You can time it.  And what is great is that it really works.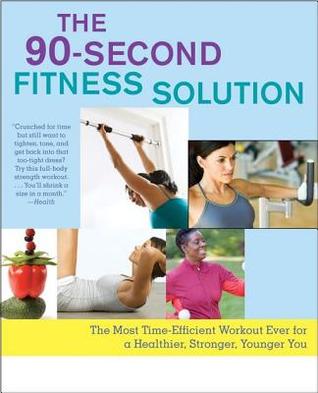 So many of us want to get 'fit' but the thought of driving to the gym, working out for a half hour, and then having to shower, dress...It often loses its appeal after awhile. Why? First, it takes time. It can be inconvenient. And gym memberships cost money.  Still most of us would like to be 'fit'.                                                           
If you are someone who has tried gym membership but let it lapse or if you are someone for joining a gym has just never had appeal, you might want to take a look at Pete Cerqua's  book, .  Who wouldn't want a program that guarantees fitness but takes less that 2 minutes to do?   Pete Cerqua's 90Second Fitness Solution could offer the solution for your personal fitness program.                                             
 I started this program when I borrowed Cerqua's 90Second Fitness Solution book from the library. When I tried his program I was amazed to find that it really does provide a complete workout in under two minutes. 2 Minutes!                                Anyone can give 2 minutes a day for a trim body and better health. Cerqua's program is so easy (and so quick) you can do it  while waiting for coffee in the morning....or even for a few minutes before supper. 
Is Peter Cerque credible? 

Pete Cerqua, the author of the 90 Second Fitness Solution  is a trainer with  a fitness studio in New York City.  New Yorkers are busy people. Almost no one in New York really wants to spend an hour working out at a gym. They are just too busy.  New Yorkers  even walk faster than people in other parts of the county They want their workouts to be like everything else in their day: fast. 
Pete Cerqua spent years reviewing various fitness programs. He discovered a particular kind of strength training that requires only two specific exercises...each one done for 90 seconds  on  five days a week And Cerqua found that this short program gave great results!  Despite its brevity it results in full body fitness. It is as effective as programs requiring many hours working out at the gym.
Amazing? Yes, and Pete's book the proof in the many persons he has helped. But don't take my word for it, Read the 90 Second Fitness Solution for yourself.
My own trial of 90Second Fitness Solution

After I read Pete's  90 Second Fitness Solution. I tried it out.  My energy level began to improve on just the second day! Not bad for this older 'couch potato' Next, I found muscles relaxing that had not relaxed in years. I started look forward to doing Pete's two simple exercises.  (Yes, and they sometimes took less than 2 minutes!)
Now I had started fitness programs before and then just stopped. For me the 'proof' would be  whether I would stick with this program.  Here is is 6 years later and I am still doing  Pete Cerqua's 90Second Fitness Solution exercises. 
What science says:
Pete Cerqua includes scientific studies in the 90 Second Fitness Solution that show his method  works.  And if you are concerned about your weight, not just fitness, Pete  offers a  simple approach to eating that his clients say 'melts off pounds'.  
Like most persons over 60, I want to stay independent. That means I need to retain both my strength and my balance. This book helps

One of the most important aspects of Pete's 90 second fitness solution program is that it prevents 'senior fragility'. Fragility, the loss of of muscle, is the bane of those over age 60. It is fragility that robs us of independence. Half the people in nursing homes and assisted care facilities are there because of fragility....and for NO other reason. 
If your arms or legs become too weak for you to do the necessary activities of daily life, that IS a problem. You start  with  using a cane..then progress to a walker or wheel chair. Soon you could need someone to cook, clean and give help in other daily activities. Those are clear signs that a 'care facility' may be in your future.  The 90 Second Fitness Solution can prevent all that. If you still live on your own, it is not too late but you need to take action.
Scientific studies show that we lose about 1% of muscle strength every year after age 35.  By age 45 that is 10% of strength. 10% is not too noticeable. But by the time we are 65 we will have lost 30% of our strength. That is a lot. Such loss makes it more difficult to carry heavy groceries or exit a car.. We also lose natural balance as we age.  This lost of strength and balance means it becomes more difficult to keep ourselves from falling whenwe trip or stumble.
The 90Second Fitness Solution by Pete Cerqua is a book worth reading. It shows you how to prevent and reverse age related fragility. Why not check out some reviews of this book.  Buy the 90 Second Fitness Solution on Amazon. 
Reader comments - If you have read The 90Second Fitness Solution -  Fitness & Weight Loss by Pete Cerqua  and you are willing to comment,  please use the form below. Thanks.
Note:  BE SURE to say you are commenting on The 90 Second Fitness Solution -  Fitness & Weight Loss by Pete Cerqua at the beginning of your post so I know where to place your comments. (I use this same form for all books on this site.)   Thanks. 
Have you read this book?
Share your thoughts! Write a review.
Home | Privacy | Financial Disclosure | Donate